You are here:

Home

Traceability
Our "Traceability" department proposes a range of solutions, extending from a simple automatic printing system through to more complex production management systems, closely aligned with the robotised line units. This can all be steered by customised interfacing with your existing ERP solutions.

ORPHEA, at the heart of our systems management

In terms of pre-grading, ORPHEA manages each grader and supplies as standard the grading results, the records and the traceability of the bins of pre-graded produce.

In terms of packaging, MAF RODA proposes a software suite, WOOPACK, which can utilise the data from ORPHEA, and from other information systems, to ensure data flow continuity with respect to the physical flows of produce in order to cover the mandatory traceability needs.

Each MAF RODA machine is controlled by a PLC. A special interface between PLC and WOOPACK enables real-time exchange of all information, to know the physical flows of the produce, the position of the transport units, and the packaging and processing statuses. This information exchange is bidirectional, and also enables WOOPACK to control the machines for the most sophisticated integrated processes. This special relationship between PLC and IT system via WOOPACK makes possible what other systems are incapable of doing: automatic data input and control, with no manual intervention.
WOOPACK, Automatic line input and control

WOOPACK, closely coupled with each of the MAF machines, facilitates:

Real-time recovery of all information needed to ensure traceability at each stage of packaging, via flow tracking.
Provision of stock removal information for produce introduced into the lines, via barcode reading.
Quantifying sorting discrepancies with dynamic weighing systems, and identifying these discrepancies.
Real-time labelling of produce in packaging units.
Establishing the composition of packaging units in transport units (pallets).
Identifying pallets with their SSCC.
Providing a computer-assisted production management system with all production and traceability information via a database.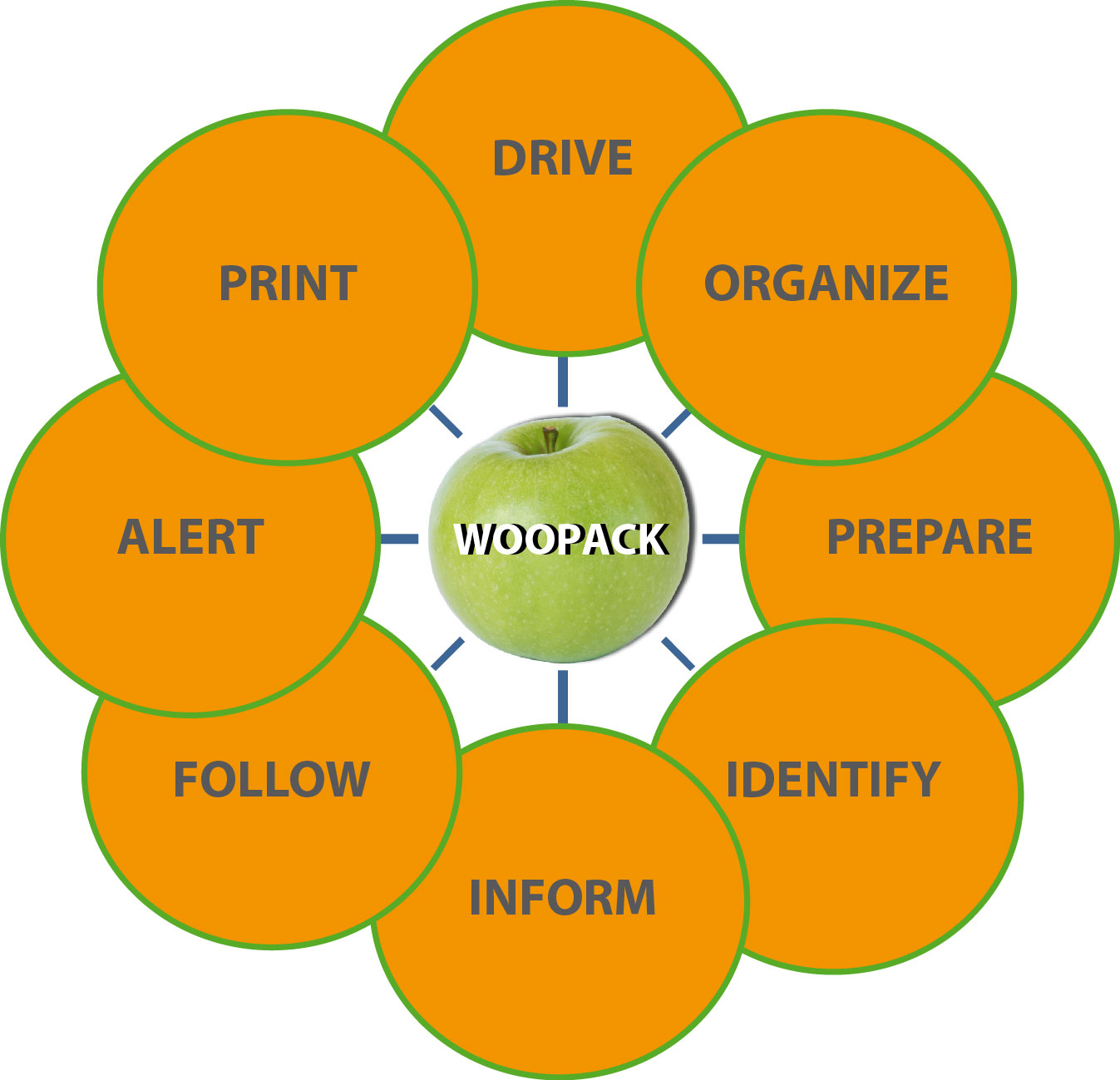 For autonomous management of your production orders
If it is also coupled with production order (PO) management, WOOPACK enables:
Scheduling of orders on each line.

Checking the consistency of the items of produce introduced into the lines, through barcode reading.

Real-time information about each order and the state of progress for the operators, via large screens or tactile screens at any strategic point of the line.

Real-time management of the stock of consumables.

Totally automatic labelling based on PO and batch data.

Real-time analysis of productivity per work type (PO) and per operator, if time-stamping is added.

Automatic programming of the machines on the line (waxing, speeds, palletiser parameters).

Providing a computer-assisted production management system with all production information and statuses for POs and traceability via a database.
Solution adaptable for supervising your installation

The WOOPACK software suite is a solution that can be adapted to any type of line, for the automatic control, supervision and recovery of data. Its close coupling with the MAF machine automation mechanism enables complete interaction that may extend as far as comprehensive line management, from the commercial Production Order (PO) right through to the pallet outlets, with no manual intervention.